LOVE GOD. LOVE PEOPLE. LOVE LIFE.
Rive Of Life Assemblies Int'l is a community of people who LOVE GOD with everything we have, LOVE PEOPLE with a love that comes from Jesus and who want to LIVE SURRENDERED to all that God has planned for us as individuals and as a church. Its a MULTI-CULTURAL ASSEMBLY with translation provided in all services. All are welcome to come just as they are and let God do the work in their lives. There is so much we could tell you about NHMI, but the most important thing for you to know is YOU ARE WELCOME HERE !. Everybody is welcome to attend our church as we focus on biblical truths that unite instead of denominational beliefs that separate.
We are a

contemporary church

: We are a group of people who enjoy expressing our faith in culture-current ways using contemporary music and multi-media.
We are a

loving, accepting church

of people who are on the adventure of a lifetime: We are coming to know Christ and growing to become more like Christ.
We are a

Christ-centered church

: Jesus Christ is the reason we gather, the Savior we worship, the Word we proclaim, the One we love, the motivation of our mission, the example we follow and our coming King we anticipate.
We are a

Spirit-led & Spirit-empowered church

: We are cooperating with the work of the Holy Spirit in leading people to Christ and helping them become more like Christ.
We are

a diverse church

: While you will find unity of faith centered on Jesus Christ, you will also find a diversity of ethnic groups, races, clothing styles, etc.
We are

an intergenerational church

: You will find programs and ministries that connect with all ages and interests.
We are

a fun-loving, creative, relational church

: This is a place where people matter, creativity is encouraged, and joy is contagious.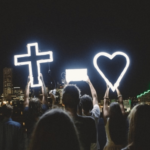 VICTORY OF THE CROSS